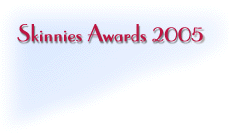 Pimpliest portrayal in a biopic:
Jamie Foxx in "Ray"

2004 was the year of the biopic, the movie medium's tradition of dramatizing historical figures. Yet how to reinforce the appearance of reality? Does movie star glamour eclipse the believability of the role?



The makers of "Ray," and other biopics this year solve the problem with a gentle visual reminder of the authenticity of character: the condition of adult acne. Rather than create the illusion of soft-focused perfection, directors have elected instead to show these actors, plugged pores and all. Nothing seems more real or evokes more sympathy than problem skin.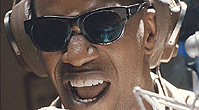 Jamie Foxx reportedly immersed himself to embody the role of late soul singer Ray Charles, donning opaque contact lenses to better capture the essence of blindness. He seems to have been so busy method acting, he neglected to get his ingrown hair condition (called PFB in medical circles), under control. Shaving too often and too close causes beard hairs to become trapped in their pores, causing more flares than the flash bulbs of red carpet photogs. Altered shaving technique and the use of Retin-A creams and antibiotics can keep the ingrowns at bay.




Foxx is not alone. Leonardo Di Caprio, as the brazen yet troubled "Aviator" Howard Hughes, in several scenes also looks in need of a microdermabrasion treatment. Renowned character actor Don Cheadle steps into a lead role in "Hotel Rwanda," yet does not leave his indie-caliber blackheads behind. Johnny Depp also appears prone to congested pores as the creator of Peter Pan in "Finding Neverland." But none of these worthy rivals show nearly as much skin inflammation as Foxx. Not since Will Smith in "Ali" has a realistic portrayal been matched by such serious stubble. Plus, Foxx plays his own piano.

| | | |
| --- | --- | --- |
| | | |
| Pimple-less performances: Spacey at "Sea" | Farrell as "Alexander" | A passionate "Christ" |
Certain biopics did not exploit the actors' dermatologic issues to heighten the drama. Skinnies award veteran Kevin Spacey's acne and scarring are not seen in "Beyond the Sea." Colin Farrell is another apparent acne-prone actor, but this fact was not used to boost the box office of "Alexander." Finally, zits are the last thing Jim Cavaziel needs to convey the suffering of Jesus' final days in "The Passion of the Christ."


We admit that treating PFB is often as hard as pronouncing its full name: pseudofolliculitis barbae. But these days, when anything can be concealed with makeup, lighting, soft focus, and computer tinkering, it takes a brave man to reveal his follicular failings. Foxx's appearance, bumps and all, enhances the realism. That type of sacrifice for the sake of the craft is certainly Oscar-worthy. Or at very least, Foxx can settle for the almost-as-prestigious Skinnies award.





Runners up, Pimpliest portrayal:

Don Cheadle in "Hotel Rwanda," Leonardo DiCaprio in "The Aviator," Johnny Depp, "Finding Neverland"