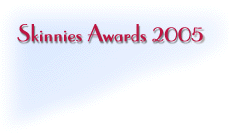 Lifetime achievement for discrete dermatology:

Nicole Kidman

Recently, Nicole Kidman has gone from being a reputable actress to an Oscar-winning superstar. Yet Kidman, while still a movie icon, had a less successful year in 2004, with underperforming features like "Dogville" and "Birth." Perfect timing, then, for Skinnies award, to raise her profile to its previous dizzying heights. Though one would not intuitively connect the phrases "Nicole Kidman" with "skin condition," the Aussie actress has displayed far more problem skin than the average internationally famous cinema icon.
She seems drawn to characters with skin issues. Perhaps to minimize her glamour, she has undertaken roles with common tattoos.



As a witch in "Practical Magic," she also fell under the spell of temporary trendy tatts created with henna dye, shown here. Though these eventually fade without treatment, some folks are allergic to the organic pigment. In "The Others" her skin in that clever horror flick was ghostly pale, an appropriate reflection of her character's situation. The role echoed her healthy aversion to the sun, which has changed her image from awkward freckled teen to poised fair-skinned movie star. Kidman is such a talent that she previously won Skinnies awards for just being nosy and not having frostbite.

In 2004's "The Stepford Wives" Kidman added hair loss to her dermatologic repertoire.
| | | |
| --- | --- | --- |
| | | |
| In "The Stepford Wives," Nicole has a secret. | | She can't explain her bald android scene, either. |
Usually, if actresses bravely play a bald character, the role involves chemotherapy, audience sympathy, and awards show victory. In "Wives," a half hearted remake of the 1970's story of suburban suspense, desperate housewives are hypnotized into subservience. Why Kidman encounters a black-eyed robotic version of herself without a wig is never revealed. Could she have been paying a strange tribute to ex-husband Tom Cruise's bald performance in "Minority Report?"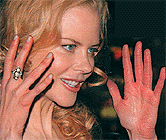 Though Kidman has been a skinema.com mainstay, only recently has her career capping condition come to our attention. At several movie premieres, Nicole has been caught red-handed, literally. Though her face and arms appear flawless, her hands occasionally are seen bright red, wrinkled, fissured, and scaly. When she won the Oscar, Australian tabloids were cruel enough to decry her "Dish pan hands." There are a few possible diagnoses for her purple palms, including a blood vessel problem called Reynaud's phenomenon, a form of lupus, or possibly an allergic reaction. The most common cause of this crimson color is the pesky problem called eczema. Eczema, though not always due to excessive hand washing, can be made worse by harsh soaps. Dryness and irritation of the skin results in itch and inflammation. Scratching then creates a vicious cycle of deteriorating dermatitis.
Fortunately, for eczema sufferers, there is hope. Heavy moisturizers, applied to the wet skin, put a dent in the dryness. Prescription strength cortisone creams can concurrently calm and clear the cracked crevices. Non cortisone topical treatments, such as Protopic (tacrolimus) and Elidel (pimecrolimus), can also hasten the healing, without any risk of skin thinning. Stress often adds to the fire of eczema, so stress relief can reduce the flame to embers. We're on the lookout for new treatments for eczema and wish Kidman luck with her movie choices in 2005.


Runner up, Lifetime dermatology achievement:

Julia Roberts