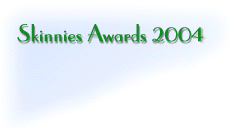 Best use of makeup to uglify rather than beautify:

Charlize Theron in "Monster"

Hollywood and glamour. Two institutions that travel together. And of Tinseltown's elite, no young thespian appears more glamorous than South African born Charlize Theron. Haute couture doesn't necessarily translate to critical acclaim, however. So the occasional Hollywood hunk or hottie will choose a role that purposefully de-glamorizes the star in hopes of pleasing that other institution, the Academy. Often a little obscuring makeup, like Nicole Kidman's prosthetic nose in "The Hours," or Ralph Fiennes' prosthetic body in "The English Patient," catches Oscar's attention. This year's most blatant deglam grab for the award spotlight is clearly Theron's puffy, badly complected turn as a serial killing prostitute in "Monster."

| | | |
| --- | --- | --- |
| | | |
| Theron usually appears heavily made up and glammy. | In "Monster," she's heavily made up and slummy as murderer Aileen Wuornos. | For comparison, here's the real life Wuornos. |


Theron is hardly recognizable as Wournos, the real life murderess who felt her johns deserved to die.
The impressive makeup job involves pads to create puffy eyes and a set of bad teeth. Most striking is the mottled discoloration over Theron's forehead and cheeks. This type of speckling is the classic appearance of melasma, a pesky facial discoloration due to estrogen hormone (from pregnancy & birth control pills) and sun exposure. Though hard to see in most publicity pics, the presence of melasma (seen with Courtney Cox, Cameron Diaz, and Andie MacDowell) is slow to respond to topical fade creams. It also requires serious cover-up to conceal. So it's ironic that makeup is used to create this usually undesirable shading.


Theron certainly is no stranger to the favorable use of face paint. She has depended on the beneficial effects of cover-up for skin issues of her own. Often she is seen covered with a thick coat of foundation. What lurks beneath the surface? Come intrepid investigator, and try not be shocked by what is not seen in "Monster"...



Theron has been featured in the past at skinema.com for her eye-catching (and benign-appearing) neck mole. She appears to have a triad of facial issues as well. Like many stars who grew up before routine varicella vaccination, Theron shows examples of chicken pox scars. These small, depressed divits are easily hid with makeup and the appropriate lighting. Theron is in great company, given that LOTR star Liv Tyler, fellow Skinnies award winner Demi Moore, and the human phenomenon known throughout the universe as J-Lo have similar facial scars.

Additionally, Theron shows evidence of adult acne, near her mouth and forehead. This epidermal example is epidemic among the elevated echelon of actors. Do movie stars really get more acne than you and I? Given the prevalent presence of pimples in post-pubescent people (meaning: grownups get zits too), it is probably no more common in actors than the general population. However, long hours on the set, very thick face paint, stressful bouts with paparazzi, and active international travel may put them at higher risk.





Female facial hair is as far from vogue as Ugg boots used to be. Most women prefer fur lining their boots, not their faces. Yet many women are prone to cheek, upper lip, and extra bushy brow hair. Hence the huge cottage industry of waxers, electrologists, and laser hair technicians, all united to battle overactive follicles as intensely as the Fellowship of the Ring takes out Orcs. Theron's fine fur is a light color, which is good and bad. Blond facial hair is overall less noticeable and easier to conceal. However, laser hair reduction works best with dark hairs. Vaniqua is a prescription cream that steadily slows facial hair growth in women no matter what the color.

Despite this potpourri of pocks, pimples, and pruned peach fuzz, there seems little chance of slowing Theron's latest career turn. "Monster" has garnered rave reviews, though the film could have saved money showing more of Theron's actual skin rather than hiding it behind monstrous makeup.

Runners up, Best uglifying makeup: