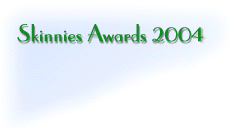 Only good skin care regime to ever come out of Hollywood:

Sunless tanning booths as seen on "Queer Eye for the Straight Guy"



Home improvement shows. Fashion makeovers. Reality dating programs. What's next? A show where some fashion victim gets an interior design rescue, a hair/outfit resuscitation, and a romantic renovation, all to a synthesized beat lifted from a gay disco? It's been done, big time. In the summer of 2003, the ultimate makeover show premiered, powered by the "Fab 5," quippy queers (their terminology) out to turn straight duds into streamlined dudes. These newly minted "metrosexuals" adopt the urban style of gay men, but get the girl at the end of the episode. The show's ratings were unexpectedly high, and this is not just because of the off-color humor. The "Queer Eye" guys show true concern for their put upon protegés.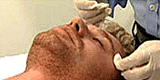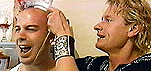 Metrosexual makeovers in action
This has certainly been the case vis-a-vis skin care. Occasionally they sink neck deep into snake oil (Perricone's "Wrinkle Cure?" Attention, men both straight and gay: save your money for something that works). But in general, they introduce wise choices. On a recent episode, one of the straights was brought to a dermatologist for a mole check. Many men don't see that moles they can't see can take a treacherous turn. Ever seen melanoma surveillance on "This Old House?" If hadn't already realized, this is not your father's improvement show.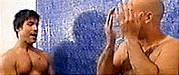 Also rewarding is the Five's preference for sunless tanning booths. While organic sunless tanners have been available for a few years, application was a problem, and linear streaks were common. Hence the technologic breakthrough: booths that quickly and evenly spray a colored coat. Though not protective against ultraviolet radiation, these tanners are safe to use, unlike UV tanning beds that have been shown to increase the risk of skin cancer.

Disclaimer: Skinema.com does not endorse a particular brand of sunless tanning booth. Bikini model not included with treatment.

Urban Myth Alert!!! The urban myth radar at skinema.com has picked up internet chatter that sunless tanning dyes might increase the risk of cancer. Let's dispel this falsehood faster than "Queer Eye" fashionista Carson Kressley can clear a cluttered clothes closet: UV tanning beds, with frying fluorescent bulbs, might cause a melanoma, but organic tanning dyes (similar to hair dyes) are not carcinogens. Nor do they cause brain damage, world hunger, or a lingering desire to wear plaid. So for those men (and gals too) who desire last century's tanned tone, rather than maintaining a healthy fair appearance, go sunless. Tell them "Queer Eye," and skinema.com, sent ya.

Runners up, good skin care regime to come out of Hollywood: None!