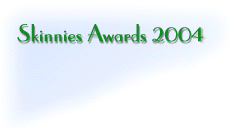 Most hidden comeback:

Demi Moore's stretch marks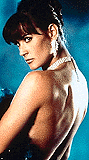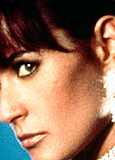 Ah, Demi Moore. After dipping her foot into the pool of celebrity with the Brat Pack flick, "St. Elmo's Fire," Moore leapt right in with a splash as big as her price tag in "Indecent Proposal." Successful films followed, as did a marriage to fellow Skinnies award winner Bruce Willis. She was eventually paid millions to star in the cinematic master work, "Striptease." Demi's cheek chicken pox scar was unavoidably visible, even in the film's publicity campaign.

| | |
| --- | --- |
| | Present, but less apparent, are her abdominal stretch marks, seen in this dramatic beach scene. They are also visible in other, more suggestive, scenes in the flick, but this is a family web site, after all. So how did a superstar like Demi Moore end up with stretch marks? |

Hormonal flux and weight changes create bands of abnormal collagen known medically as striae distensae. Pregnancy combines both these states, and somehow we found out Demi was pregnant. Okay, at her peak, she rivaled Madonna in exhibitionist excess. Know many other women willing to bare the baby-bearing belly on magazine covers? And who look so good doing it?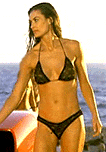 But like so many white hot stars, Demi's radiance dimmed. After reigning as the 1990's Queen of Hollywood, Demi Moore beat a self-imposed retreat to raise her kids in the Mid-West. With this summer's "Charlie's Angels: Full Throttle," Moore returns to the screen in skimpy outfits that are fairly revealing. Not revealed, however, are her stretch marks. Early images of Demi's tight abs in "Angels" don't show the lesions. Are they actually gone?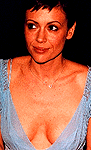 Other actresses, like "Charmed" star Alyssa Milano, also show stretch marks.
It is not clear exactly why certain women (and men!) are prone to striae. Equally troubling is the lack of simple, effective treatment. We are not aware of any supplement, herbal pill, or collagen enhancing snake oil that represents a magic stretch mark eraser. Maybe the witches on "Charmed" have a secret spell, but they haven't shared it with us. So a word to the wary: check all creams and treatments (including laser) that promise easy clearance of stretch marks for a money back guarantee. Fortunately, most stretch marks eventually become pale (like Milano's) and so are less noticeable.

Given the lack of effective treatments for stretch marks, and their natural tendency to fade in color over time, it is doubtful Moore's marks are missing. In movies, lighting, makeup, and computer image manipulation can deal with any detrimental defect. But Demi needn't feel lonely. If there were a simple fix, would the dimpled divas featured here not have had their marks removed? The following actresses are similarly stretched: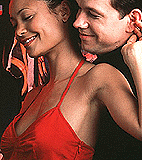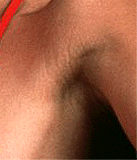 Dandy Thandie Newton is the object of Mark Wahlberg's attention in "The Truth About Charlie." The truth is he doesn't object to these underarm marks.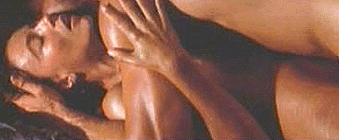 While on the subject of romance, Aussie screen siren Rachel Ward's love life in "Against All Odds" is in no way affected by odd-looking striae of the thigh.

| | | |
| --- | --- | --- |
| | | |
| Jayne Mansfield certainly never held back, whether with cleavage, | ...adult acne... | ...or stretch marks. |
These glamorous gals have an ample ancestor. B-movie bombshell Jayne Mansfield made quite a screen impression in the 1950's and 1960's despite having more curves than talent. Her womanly wiles provided the perfect distraction from her skin problems. Battling adult acne was the least of her concerns. Mansfield also appears to have more stretch marks than the sum total of her measurements. Her classic example is echoed today by current voluptuous video vamp, Anna Nicole Smith.

We do know of one prescription cream that can minimize some stretch marks...
| | | |
| --- | --- | --- |
| | | |
| Anna Nicole Smith is always happy to be photographed. | She won't stop partying just because of some pesky chest ... | ...and arm stretch marks. |


Texan tart Anna Nicole Smith does everything big. So naturally, she shows some big red chest and arm stretch marks. For stretch marks just freshly hatched, still scarlet in hue, Retin-A (yes, that Retin-A, the acne & wrinkle wonder cream) can markedly un-mark them. It has to be applied very early on, while the striae are still red, for several weeks. After one acts too late, they can at least take heart that glamorous movie stars (Moore), vampy TV witches (Milano), and the E! Channel's narcissistic non-star (Smith) all similarly stretch in their various roles.