Alternative medical treatment to avoid:
Windex in "My Big Fat Greek Wedding":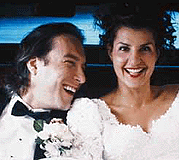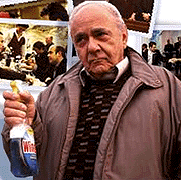 Windex: The most unorthodox skin treatment in a movie about a Greek Orthodox ceremony.
"My Big Fat Greek Wedding" was an unexpected phenomenon. Who knew that the little indie flick that could, well...could?
The comedy sleeper hit of the year owes a debt to the alternative medical passion of patriarch Gus Portokalos (Michael Constantine). As he tells anyone within earshot, a spritz of the household cleaner Windex is a sure cure for all skin ailments from psoriasis to poison ivy to acne. In reality, Windex is the last thing that one would put on inflamed skin. What makes windows shiny could make skin raw and sore. It's not called "Skindex," after all.


He almost uses it in one of the film's tensest scenes: When the bride-to-be wakes up with a major zit on her chin. Fortunately, expertly placed makeup safely does the job. Otherwise a bride-in-waiting can contact a dermatologist for a small, thin, Greek injection of anti-inflammatory cortisone. The Zit will vanish faster than that Goat cooking on the spit in the front yard.


Another memorable scene takes place as Aunt Voula (Andrea Martin) attempts to get familiar with her new in-laws by describing the story of her neck tumor. She reports that when it was surgically removed, doctors found it contained teeth and a spinal cord. We wish that this idea was pure fiction, mere gross out humor springing straight from the mind of a demented screen writer. But such a growth does exist. Teratomas, also known as dermoid cysts, can feature portions of skin, hair, teeth, and other bizarre bodily tissues. Technically not malignant, they usually develop in the ovaries and are only rarely found in the skin. Treatment is with surgical excision. Or with Windex. Kidding.

Alternative medical treatment, Runner up:
Cocoa butter to fix a broken foot in "Barbershop"


www.skinema.com

© 1996-2008 Vail Reese M.D.