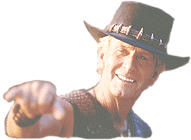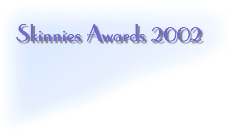 Most prophetic character name:
Paul Hogan as "Crocodile Dundee"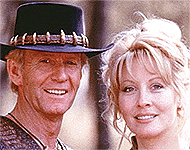 In the mid 1980's, Paul Hogan, a charmingly tanned Australian, invaded international movie houses as the outgoing adventurer "Crocodile Dundee." Though he wore a wide brimmed hat, sun screen was as far from his skin as the Great Barrier Reef is...Great. 15 years later, Dundee is back in 2001's comedy-you-never-saw, "Dundee in LA."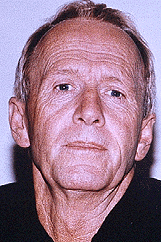 Now with a face as wrinkled as the Australian coastline, Hogan truly looks like the Crocs he's wrestled over the years. As a reaction to long term sun, the skin becomes thick, leathery, dry and scaly. In contrast, costar Linda Kozlowski (above), who preferred the fair look, still looks fairly furrow-free. Perhaps she was impressed by the extremely successful Aussie public service campaign promoting sun protection. Instead of putting a shrimp on the barbie, Dundee seems to have put his own face on the barbie. And if you had forgotten that Dundee had a movie in 2001--Sorry to remind you, mate.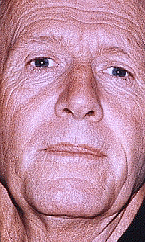 Runner up, prophetic character name: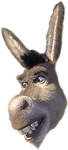 "Donkey" in Shrek, who actually is a Donkey
www.skinema.com

© 1996-2008 Vail Reese M.D.