In "Papillon," Steve McQueen escapes a notorious French prison. On the lam in the jungle, he encounters a smuggler with a severe case of leprosy. Depending on the immune system's reaction to the bacteria, patients can anywhere from a few flat skin patches to extensive bumps (lepromatous form). Though initially shown to shock, this fellow proves to be an ally to McQueen.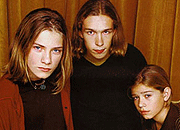 To avoid the centuries-old stigma against those with leprosy, some advocate changing the official name of the condition to "Hansen's disease." Former teen pop trio, "Hanson," were unavailable for comment.






One of the more poignant aspects in the Roman epic, "Ben Hur" is the pain Charleton Heston suffers learning that his mother and sister have contracted leprosy while imprisoned. By an act of God at the movie's end, they are cured of this debilitating disease. In modern times, treating leprosy requires long courses of a series of antibiotics. Even so, if a patient's immune system is not as strong a Roman chariot, treatment attempts may be thwarted. Ongoing research, with perhaps some Heavenly help, will hopefully eradicate this condition.