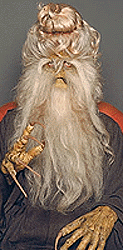 Yo! Yo! Make way for Oppo!
Oppo Rancisis, that is.
That hair. Those nails. The...dark spots.
Speaking of fashionable, everyone's fave member of the Jedi council models the latest in high priest hairstyle. Here is an example of quantity over quality. The penthouse style bun is a clever foreshadowing of Princess Leia's trend setting danishes in Episode IV. Many women would kill for his nails, though they are so long that it's a wonder he's not killed by them. His dark hand spots are his primary fashion faux pas. Called "liver spots," and given the medical term "solar lentigines," these blemishes are sun induced. Yet what the sun hath wrought, lasers can thwart. After a quick session with a pigmented laser, this Jedi is spot-free and ready to do that voodoo that Oppo do.